INFINITI has a unique feature that sets us apart from all German luxury auto competitors: it's not, you know, German. So for the 2018 Pebble Beach Auto Show Concours d'Elegance, we partnered with Tool of North America, Munkowitz and VT Pro Design and used cutting-edge projection mapping to celebrate Infiniti's Japanese heritage and its influence on the car's design.

And what was our canvas? The Infiniti QX50 itself.



The experience was the centerpiece of an entire "auto show within an auto show" we created in partnership with Motor Trend magazine: The first annual INFINITI Japanese Auto Invitational, a brand-new event that aimed to bring even more diversity to the premier celebration of classic, vintage automobiles and demonstrate the prowess Japan brings to the industry. Aaaand, cue the car porn...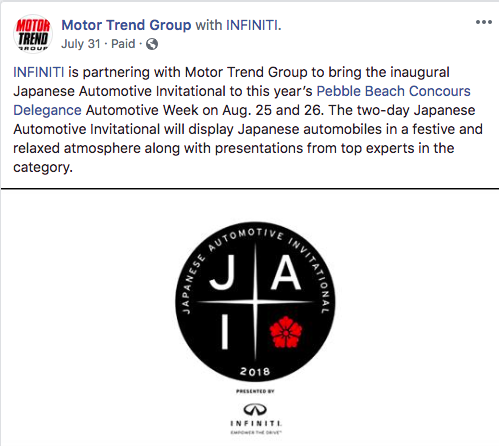 And it was an FWA of the day...