Content from Hardwood Heroes Final Four game at the Alamo Dome in San Antonio. This year's Hardwood Heroes teams were led by two NCAA® coaching Hall of Famers: Coach Jim Calhoun and Coach Bo Ryan.Team Calhoun won 27-24, but in this game, there were only winners. And on Facebook Live, viewers were allowed to make real-time donations.

Content produced in conjunction with TBS/NCAA.



ON-SITE ACTIVATION: THE INFINITI "CHARITY STRIPE"—The ultimate tailgate event where folks use their hoops skills to win big. For every basket made in 30 seconds, INFINITI donated $1. In the end, we raised $72,880 on free throws alone. That's 72,880 made free throws. In TWO days.




For playing, we provided participants with a digital takeaway to share (and brag about) their stats and net donations to their friends and followers on Facebook and Instagram.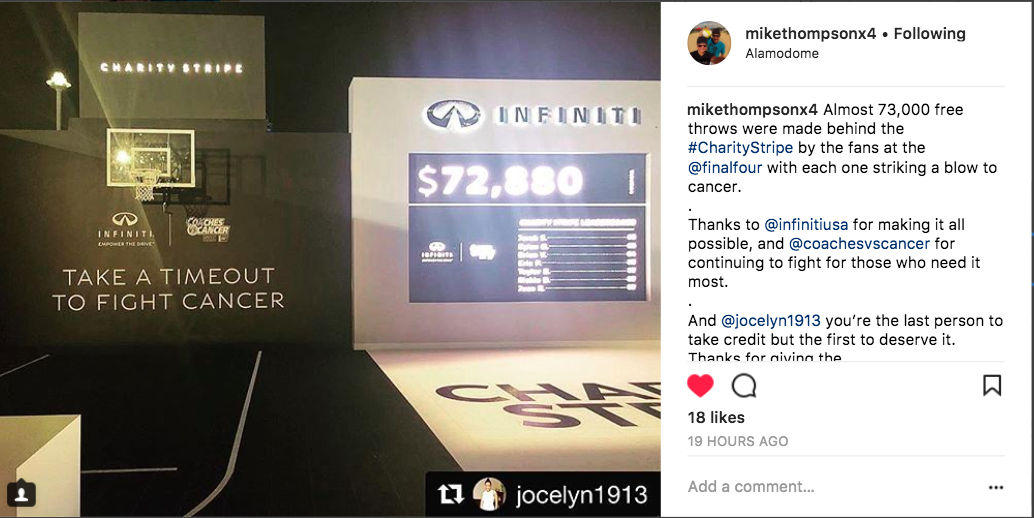 We got coverage in places like Barstool Sports.